An online Auction in minutes? Sold!
Give your community the thrills and laughs of bidding against each other for an item they truly covet. When bidding goes up, so do your donations.
Win the popularity
contest
Give your organization stunning good looks
Create a beautiful auction and launch it in just minutes. Catch everybody's eye with custom images, text fields, and branding.
Spread the news
Tell the world with links to your Experience page or individual items. Multiply your message with Peer-to-Peer fundraising, easy social sharing, and Text-to-Give.
Pick a size, any size
Whether you're auctioning off one item or a thousand, RallyUp raises the roof on donations. Your seller fee is capped at $100 maximum—even if the item sells for a million dollars.
Put bidding in everyone's palm
Keep your auction moving and shaking 24/7. The bidding action is optimized for smartphones and tablets. Immediately alert participants when they've been outbid with real-time notifications.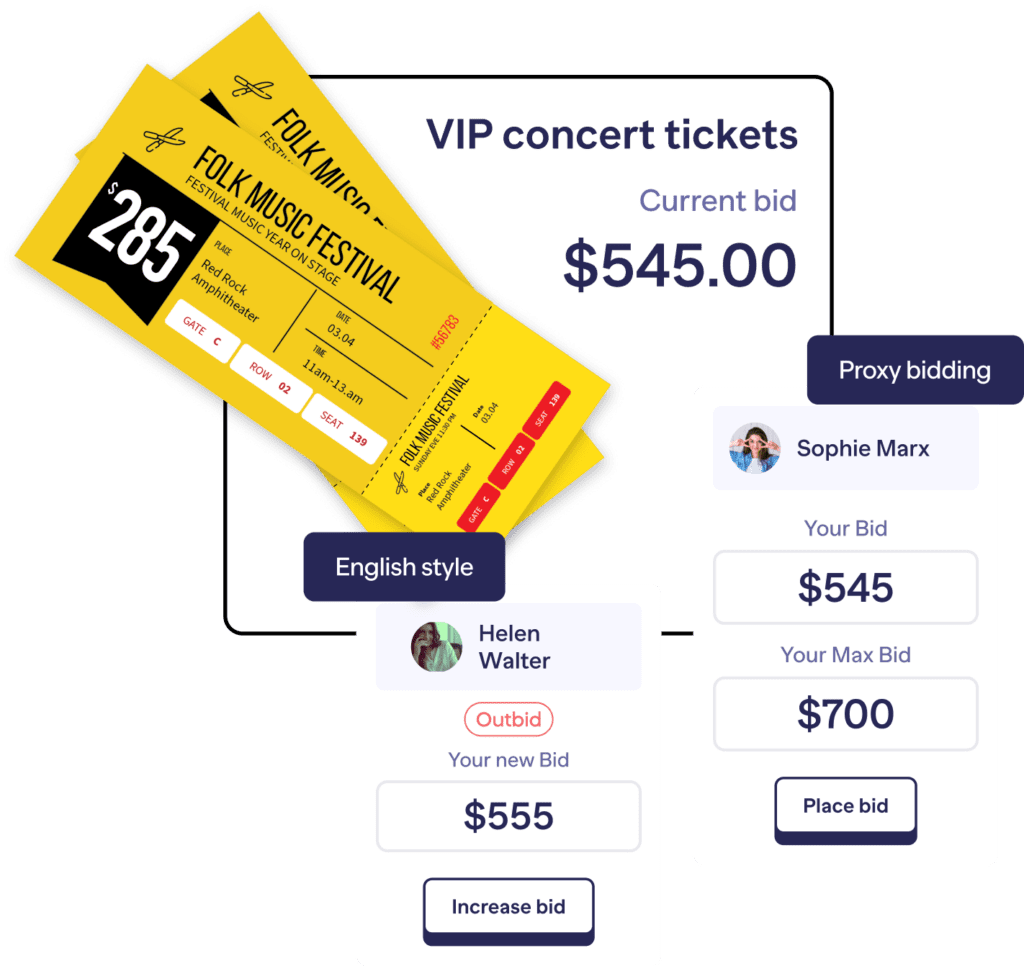 Let donors do it their way
Auction styles are not one size fits all. RallyUp lets you choose the bidding style best for your donors, English Style or Proxy Bidding.
Amplify online donations with Auction Gifts
With Auction Gifts, you can receive donations from any and every bidder – not just the winner! When bidding, donors can optionally choose to make a donation in the event they don't win the item. Auction Gifts are a RallyUp innovation that nobody else offers.
Intelligent online auctions for nonprofits
Put your Auction center stage
Unleash real-time bonding with a Charity Livestreaming Spotlight Auction. Engage attendees by letting them bid against each other live. Leverage the world's most powerful Charity Livestreaming solution to raise awareness and donations.
Add up more donations with added variety
Give your donors a tantalizing participation buffet. Combine your Auction with a Raffle, Store item, in-person Event, or any of our 9 ways to raise funds. Combine as many Fundraising Activities in a single Experience (one URL) as you like.
Relax, we've got this
Let us do the heavy lifting
Sit back and let RallyUp's start-to-finish automation handle everything.
We collect while you relax
Make your Auction hassle-free. Automatically notify the winner and collect payment.
You've got the receipts
Taxes shouldn't be taxing. Automatically send tax receipts to your winners.
Your peers are raving about our Auctions
"RallyUp was such a win!"
Hosting our online auction on RallyUp was such a win! We were able to customize the platform to showcase not only the items up for auction but our cause and mission with ease and the customer service couldn't be beat. We will definitely turn to RallyUp again in the future!
Stephanie Paddock
Michael J. Fox Foundation
"Easy and Effective Platform"
Since we have a worldwide membership in our 501C-3, having the ability for a virtual auction to raise funds has been an amazing answer to raise funds in a fun and effective way. I like how easy it is to create an auction. The support is very strong and quick when I run into a question.
Ken O.
Mid-Market
Review from G2
Attract happy bidders today